Beware of the danger of DIY teeth aligners.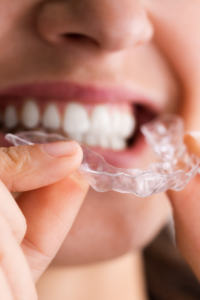 You've likely heard and seen advertisements for the type of orthodontics you can purchase through the mail without ever having to leave your home. These companies promise a cheaper price and shorter length of treatment as well as the convenience of not coming into a provider's office. While these companies spend a lot of time and money marketing to consumers, these ads often fail to mention the problems of DIY teeth straightening or the lasting effects of trying to do treatment on your own at home.
Cheaper isn't always better! And in the end, you may find that it was not worth it.
Here are a few things we find concerning DIY teeth straightening treatment.
No exams

. Almost every orthodontist will offer a comprehensive exam for patients to check the dental status of their teeth. Being able to get a closer look helps us better able establish a treatment plan. 
At Hester Morris Orthodontics, we offer this exam at no cost to you. It's important to us that our doctors both meet and thoroughly examine the patient in order to be able to prescribe the appropriate treatment methods that will best improve their smiles. 
We also take complementary x-rays to show crowding underneath the gums that a patient cannot see with their eyes, including extra teeth or missing teeth, or extremely crowded teeth. Failure to examine a patient could possibly mean failure to see ongoing dental issues that should be addressed prior to beginning orthodontic treatment.
No scans

. Patients who elect to have DIY teeth straightening are sent a do-it-yourself impression kit to make a model of their own teeth. They then send the impression to the company for the exchange of clear aligners that are modeled to that impression.
 Not only is the impression process uncomfortable, but it is also very difficult to obtain a perfect impression without dental training and experience. (Have you ever heard of a gag reflex? Yuck!) Plainly put, unless you know what you're doing it's going to be hard to get a very exact impression of your teeth.
 Here at Hester and Morris, we no longer do these impressions but rely more on updated technology in the form of digital scanning. These scans of a patient's teeth are far more accurate than the traditional impression process, making the fit of our Invisalign aligners much more consistent with the patient's actual teeth resulting in a better fit. Getting a digital impression from our Itero scanner is also very easy to do. No holding your breath and no gagging!
No continuous doctor's care. While it's true that your DIY aligner treatment may be supervised, you have no way of knowing the number of cases they take on and just who exactly is responsible for your care. You should always trust your smile to a trained orthodontist. They have the highest level of training, education, and experience necessary to straighten teeth and align jaws properly. You can only see so much from an impression, and digital or virtual care should never completely replace in-office visits. This unfortunately can sometimes result in cases where there's permanent damage to a patient's gums or even tooth loss.
While some people are choosing to use DIY aligner treatments because of the cost and convenience, many are realizing that they compromise the quality of their care and the satisfaction of their results. 
 No matter what type of orthodontic treatment you're seeking, it's important to understand that it's the relationship you develop with your orthodontic provider that makes the difference in your results. You can spend a lot of time and money trying to do it yourself, but in the end, you're missing out on the personal relationships, the education, and the expertise that helps you make the most out of your orthodontic care. You don't have to sacrifice your smile to save a little money. Come in for a complimentary consultation at Hester and Morris Orthodontics and find out how we can help you improve your smile and your life!
And we'd love to discuss your treatment options with you! If you'd like to make an appointment click here. We would love to help you live life smiling!