Hester & Morris Movie Day 2022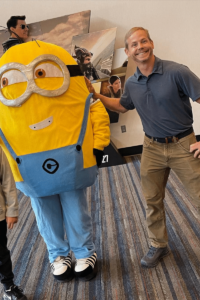 We are back y'all!
After a two-year break, Dr. Hester and Dr. Morris were excited to bring back our annual patient appreciation movie day this past month. 
Our event was held on July 1, 2022, and we invited our braces and Invisalign patients to join us on that Friday morning for a free movie! 
Our team was there bright and early that Friday morning, ready to welcome our patients as they came in, got their movie snacks from the concession stands, and showed which movie they wanted to attend. 
We wore adorable blue T-shirts with buzz light year flashing a fantastic smile! This year the movies we showed for patient appreciation every day were "Lightyear and "Minions": The rise of Gru." 
We were so happy to be able to bring this event back for our patients as a way to show our appreciation for their continued support. We genuinely love what we do in creating beautiful smiles, but we wouldn't be who we are without our wonderful patient families. 
Many of our families stopped for pictures with our minions and were happy to be there. Due to the pandemic, for many of those in attendance at our movie day, this was the first movie they had been to in the last couple of years. So it was good to be back!
With over 500 in attendance, it was a super fun morning at the movies! The Minion movie was definitely the favorite! But, who doesn't love those little guys? Especially when they have braces?!!
We are very hopeful to continue to make this a yearly event for our patients and families. So again, we thank you for supporting Hester and Morris Orthodontics. Because of you, we are South GA's #1 orthodontic provider!