[caption id="attachment_145" align="alignnone" width="200"]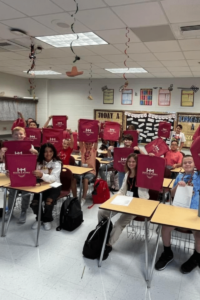 Pine Grove Students[/caption]
The shoes are new, and the pencils are sharpened; it's time for back to school!
Of all the things that we at Hester Morris Orthodontics get to help within our community, it's being a Community Partner in Education that is incredibly close to our hearts.
We love supporting our schools and giving back with donations of time and supplies during the year. At the start of the school year, one of the ways that our team helps support our local schools is through the provision of drawstring bags and lanyards for our area middle schools. These bags are so helpful in holding gym clothes, and students love them!
The schools appreciate the lanyards as well, for they hold student IDs that many schools require. In addition to these donations, our team has also helped try to brighten the days of art returning teachers with donations of food and gift cards for raffles and contests and their schools. Who couldn't use a gasoline gift card in 2022?!
We believe in being community minded and serving in the city we work and live in! Our patients matter to us. Therefore, we must invest in their schools.
The best way to do that is to give back to our schools. When we can provide our schools with supplies and bags for the students, we feel like we are making a difference in the community. We are thankful for the opportunity to partner with our schools, and we know that our staff and patients will also benefit from the partnership. We know our education system is essential to our city and our country, and we are glad to be a part of helping our community schools!
Schools make us smile -- What about you? What causes are important to you? Tell us in the comments below!