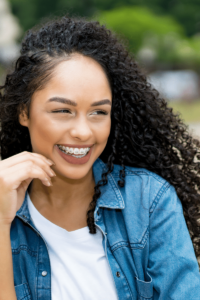 Getting Braces As An Adult???
Braces for adults. For many, those two things don't seem to go together. Maybe you had braces as a teenager and forgot to wear your retainer, causing your teeth to shift. Even if you've never had orthodontic treatment, many adults realize they can benefit from it.
Read on if you're thinking about getting braces or possibly Invisalign is right for you.
You're not too old for braces or Invisalign.
Let us assure you that having Invisalign or braces is not just kid stuff! In fact, at Hester & Morris Orthodontics, we even have patients that are in their 70s.
In fact, as we age, our teeth tend to shift, and one of the biggest reasons we see adults in our practice is not necessarily for straight teeth but more often due to the change in how their teeth fit together. When your bite is not right, this can cause headaches and TMJ symptoms. We may not be able to relieve your stress from a hectic job, but aligning your teeth can surely relieve some of the stress you put on your teeth and jaws.
Treatment for adults is not as long as you might think!
More than ever, our treatment options offer ease of wear and the convenience of low treatment times. Over the years of increased technology, orthodontists have learned how to shift the teeth faster with significantly less discomfort. And because of additions like our iTero digital scanner, doctors Hester and Morris can treatment plan your smile from every angle. The results of this mean you spend less time in braces or Invisalign.
Adult braces don't necessarily mean braces.
We have multiple treatment options at Hester Morris Orthodontics, including those for our adults. In addition to regular metal braces, we offer ceramic braces for a more disguised look and offer Invisalign treatment. Invisalign is a great option because it moves your teeth like traditional braces however, because they involve a series of clear removable plastic aligners, they go very well with a busy adult lifestyle.
You won't spend all your time in an orthodontist's chair.
Long gone are the days when patients came once a month to see the orthodontist and have their braces tightened. With our advanced treatment methods and the latest technology, we can give you a great smile more quickly and comfortably. You'll have fewer appointments with us; we even offer virtual options to help along the Invisalign process.
Having orthodontic treatment as an adult doesn't have to mean being extremely expensive.
The Hester and Morris team strives to make orthodontic treatment affordable for our patients. We accept dental insurance, which can greatly reduce your cost out-of-pocket. Many dental plans will cover orthodontics for adults. In addition to insurance, we offer in-house financing that can be flexible to help fill your monthly budgetary needs. We will happily review this information with you at your initial complimentary consultation with our office.
If you're considering a small makeover or just a tuneup with Invisalign or braces, give us a call or email us to schedule a free consultation. Dr. Hester and Dr. Morris look forward to helping you decide which treatment option is right for you.