July 11th, 2022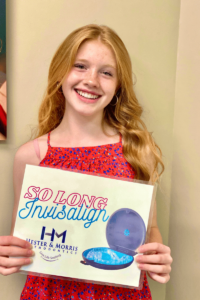 Two Invisalign Tips for teens that will help make Invisalign successful: ???
☑️ Use your chewies!
Every time you change your Invisalign aligners, use the chewies we provide to help make sure your aligners are seating over the teeth the very best they can, making for more efficient movements. 
Aligner feeling a bit tight after slacking on wear time? USE YOUR CHEWIES!
☑️ Don't take out your aligners!
Those first few hours of a new set of aligners can cause slight discomfort, and it's tempting to just take them out until "later". 
However, constant snacking and gum chewing can cause patients not to get the amount of wear time needed for the most successful results.
 Teen hack: Some patients find it easier to leave them in, even while eating.
If you follow these tips, you will be on your way to a successful experience with Invisalign! Let us know how we can help, by sending us an email or reaching out over social media!