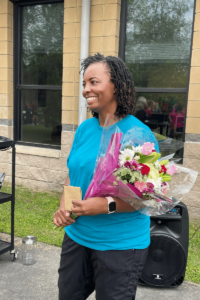 The Hester and Morris Team recently held a contest in the office in honor of Mother's Day. Patients were able to nominate their moms via a Google Form to have a chance to win a bouquet of flowers and a Visa gift card in the amount of $100.
We've been really looking forward to having contests back in the orthodontic office again, and with our lobby back open full time, we knew this was the perfect event to start with. We LOVE moms! Our team received close to 50 nominations, with patients answering why they love their mom. There were so so so many wonderful entries, and they made us smile to read! Our selection team narrowed down the entries and then a winner was selected by our Professional Relations Coordinator. It was so hard to choose!
The most fun part about this contest was that we were able to surprise the winning mother at work! Mrs. Quita Jones was nominated by her son Nicolas, and he spoke of her as being a great listener and was good at allowing him to express his feelings without the fear of judgment... Did we mention that this mom is a Guidance Counselor? Once we realized where mom worked, we contacted Lowndes Middle School and they were so excited to have us come out to award her in person! In fact, they got the students and other administrators involved as well. We were able to talk over the loudspeaker and share with everyone about our contest and her son's entry. Mrs. Jones was hard at work that day leading a stress management event with students and truly had no idea about any of the plans... A true surprise.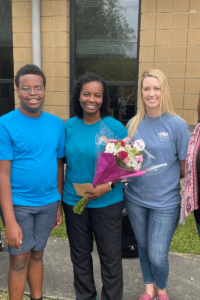 Thank you to everyone who sent in nominations. You ALL make us smile! Be sure to check out our Father's Day Contest in the office during the month of June!