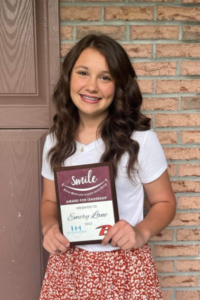 2022 SMILE Award Recipients
Every spring the Hester and Morris team has been partnering with the area middle schools to give out an award for leadership.
We called this the SMILE Award which stands for shine, motivate, inspire, lead and excel -- all wonderful qualities that truly make others around them smile.
The schools select the individual and our office prepares a plaque and rewards the recipient with a $100 cash prize. The recipients do not have to be patients of Hester Morris Orthodontics, but we have been so pleased to see that many of them often are!
We are so very proud to be able to partner with our local schools and reward these deserving students who serve others so well. Congratulations to the 2022 SMILE Award recipients.
Lanier County Middle School: Drashti Patel
Valdosta Middle School: Angel Sheffield
Hahira Middle School: Mallory Rogers
Berrien County Middle School:
6th Emery Lane
7th Brandon Jones
8th Eric Martinez
Pine Grove Middle School: Yuka Bass
Lowndes Middle School: Emily Kate Hiers
Newbern Middle School: Wanda Waldon