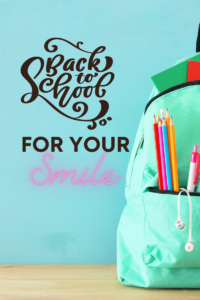 Back to school… for your smile!
Advertisements are popping up everywhere, and school supplies are hitting the shelves. As you prepare your child to head back to school, you likely have a list of needed supplies from schools and teachers. But, did you know that if your child wears Invisalign or braces, they need to help their smiles head back to school?
5 things your child needs for heading back to school for their smile!
1. A travel-sized dental care kit
Most students won't have time to brush their teeth after meals, so a small kit of home care items can be kept in a child's backpack or locker.
For example, small toothbrush floss can help braces patients when food gets trapped underneath the wires of the races.
Invisalign patients can also benefit from a travel toothbrush to clean their aligners and ensure the food does not get trapped underneath them.
2. A "Christmas tree" or proxy brush
This tiny brush with a shape like a Christmas tree has soft bristles and is meant to go underneath the wire between the brackets for hard-to-reach cleaning.
 Parents can pick these up from our office, and many drugstores also have them.
3. Orthodontic Wax
Try wax for poking wires or brackets that irritate the gums.
This braces' classic can be handy in a pinch when braces are irritating the inside cheeks or gums, causing a mouth sore.
Also, if you have a loose wire, you can use wax to help stabilize it until you can come to see us for repair.
Be sure to ask us for extra wax next time you come to see us; school nurses will also occasionally have someone in stock.
4. A backup case for your Invisalign
So many parents fear that their child may accidentally throw away their Invisalign aligners during lunch at school.
Unfortunately, we've seen this all too often! As many lunchroom workers and teachers will tell you, digging aligners out of the trash is no fun. 
For this reason, we often recommend a backup case for school.
 It keeps the main Invisalign case safe and has less risk of losing, but your child will always have a place to put aligners at lunch. It does not have to be an official Invisalign trademark case; a simple retainer case will do. Some patients decorate the outside of their cases, making them cute and custom works of art. The lunchbox or backpack is an excellent place for this item.
5. A mouthguard, if your child plays sports! 
With that, the school season also brings fall sports.
Some contact sports, like football and soccer, pose the risk of injury to your teeth, so mouthguards are often recommended. 
If your child wears braces, they will need a specific type of mouthguard. We have these available in our office for you at no additional cost.
Bonus tips:
Be sure to talk with your child about their braces or Invisalign care at school. For example, some patients are self-conscious about taking out their Invisalign aligners to eat lunch. You can help them by talking about solutions that would work for them. You can also assure them that Invisalign treatment is more popular than ever before, so they likely will not be the only ones wearing Invisalign.
Be sure to grab great face photos for your back-to-school pics that can serve as timestamps of your child's orthodontic treatment. You will love looking back over the school year and seeing how much their smile has improved!
What other tips can you suggest for orthodontic patients heading back to school? Leave us a comment and let us know.