Are you or your child looking to start treatment with Invisalign but finding it hard to say yes because of a busy schedule? Then, you're in the right place – because we have a solution for you! Dental Monitoring is one of the latest technological advances in the Orthodontic field. Hester and Morris Orthodontics have used DM with our patients for over two years.
So what is Dental Monitoring?
Dental Monitoring is an app on your smartphone that we use to help check your Invisalign progress remotely. The patient simply takes a quick weekly scan using their cell phone camera and uploads it to the app. Then that scan is examined with a combination of AI technology and a Hester and Morris team member for correct aligner wear. If everything looks good, our team will follow up with you, letting you know that you're ready to proceed with the next aligner.
Here are three reasons why our patients love Dental Monitoring:
1. Continual support from the Hester and Morris team.
Our Invisalign patients love hearing weekly updates from the office on their treatment. When you're new to Invisalign, you want to ensure that you're doing everything correctly, so having this weekly feedback assures the patient. It also makes communication to our office very convenient. All you have to do is message us through the app!
2. Convenience and flexibility.
We get it – people are busy! But, the great thing about Dental Monitoring for your Invisalign treatment is that you can be successful even with life on the go. Weekly scans can be done anywhere since most people always have their smartphones with them. Going on vacation? You don't have to worry about missing an appointment or having to reschedule because you can capture your weekly scan at the moment that makes the most sense for you. Have a question about treatment? A quick message through the app, and our team is happy to help!
3. It teaches responsibility and accountability.
Do you have a teen in Invisalign? Not a problem! A great thing about the Dental Monitoring app is that it allows your teen to take more ownership of their aligner wear. Parents can be assured that we are checking behind their teens weekly, not only on the amount of time that the aligner is worn, but we're also pointing out any problems that we see along the way. We can even communicate with you about wearing elastics and even check up on their oral hygiene. The overall results are successful treatment and time efficiency!
Sometimes people wonder if Dental Monitoring replaces in-office visits? At Hester Morris Orthodontics, we see Dental Monitoring as an additional way to provide the most inclusive patient care. But, of course, you still come into the office for visits, though not as often, because Invisalign treatment takes much less time than patients who have braces. But our patients are never on their own with her treatment, and we are here every step of the way!
If you've been thinking about starting treatment with Invisalign, but a busy life has been getting in the way – let us help you get started on that journey to a new smile! So give us a call today or click the link to schedule your consultation appointment and speak with our staff about how easy it can be to get the smile you've always wanted.
[caption id="attachment_80" align="alignnone" width="200"]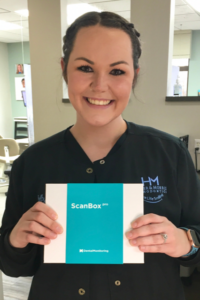 Dental Monitoring is a tool we use to give our patients the best experience possible![/caption]