July 5th, 2023
Braces can be a major adjustment for anyone, especially when it comes to diet. Many orthodontists recommend avoiding hard, chewy, or sticky foods to prevent broken brackets. However, one common favorite among all ages is chicken nuggets. But can people with braces still indulge in these crispy, breaded delights?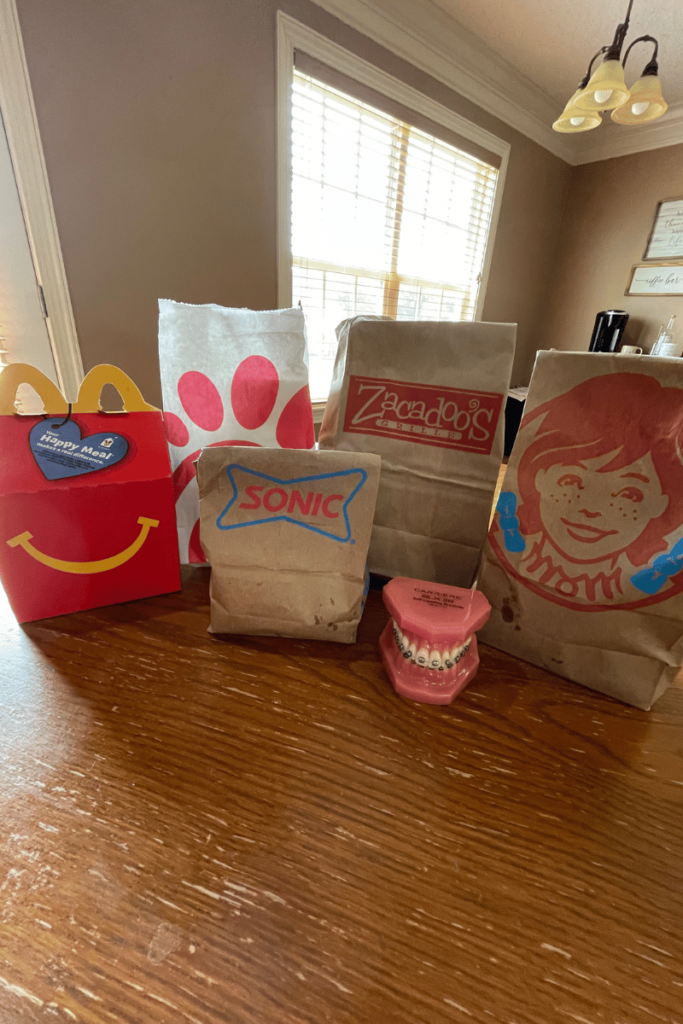 In this blog, we will look at a few of our favorite chicken nuggets from area restaurants and see how they fare in the world of braces.
Generally, chicken nuggets are good food for patients with braces. But which ones are considered the best for braces? We recently went around town buying up chicken nuggets (for science!), and we found that some are more suitable than others when you have braces.
The restaurants we visited include Wendy's, Chick-fil-a, Sonic, Zacadoo's, and Mcdonald's. We bought these nuggets from each restaurant and brought them back to test on our own braces model.
We decided not to include chicken strips in our test because we feel chicken strips are entirely something else. Still delicious, just not nugs!
And please remember that this is strictly based on crunchiness and toughness, not taste.
Here are our findings: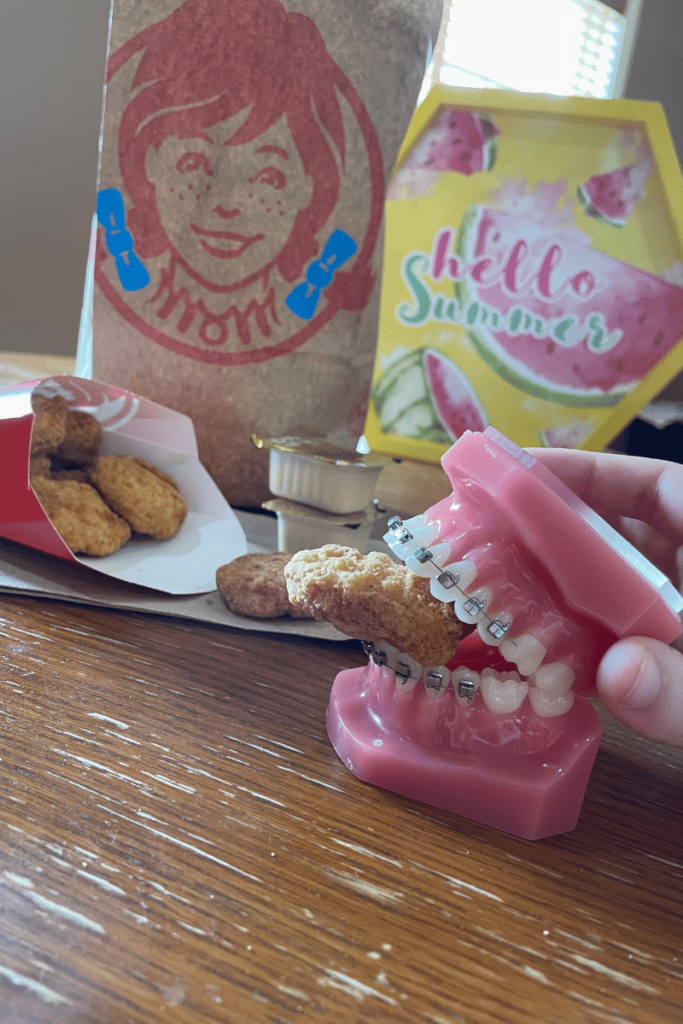 1. Wendy's Chicken Nuggets
These are the middle of the road in our braces test. The soft interior makes it very easy to eat, but depending on the crunchiness of the outside, it could be difficult to bite into. Side note: Not good cold. They became tough and dry.
2. Chick-fil-a Chicken Nuggets
The Lord's Chicken Nuggets are some of the most popular in our area, so we had high hopes for them. And we were not disappointed. These nuggets were tender and juicy and had a light batter on the outside, making them easy to bite into, even with brackets. The only thing to watch for may be the denseness of the chicken itself since it's real chicken breast.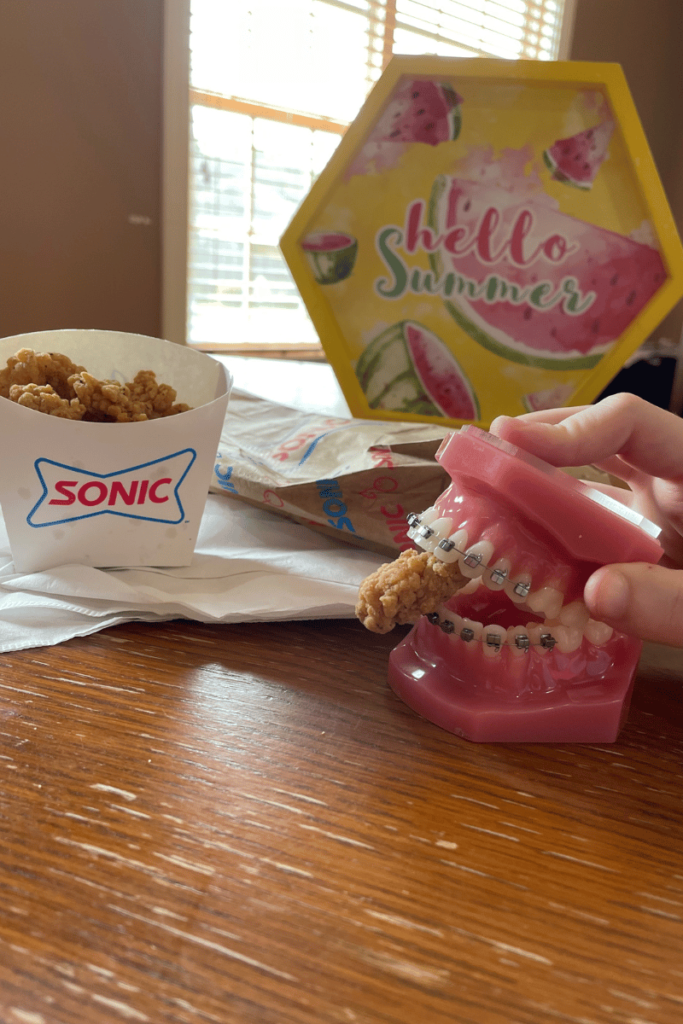 3. Sonic Drive-In Chicken Nuggets... AKA Popcorn Chicken
So while technically not a chicken nugget, these small bite-sized chicken pieces were their equivalent. Unfortunately, these did not fare well in our braces test, and we recommend caution with these while you have braces on your teeth. Or better yet, avoid them altogether and opt for other options at Sonic to prevent possible bent wires or broken brackets. We love their burgers and tots! And their milkshakes!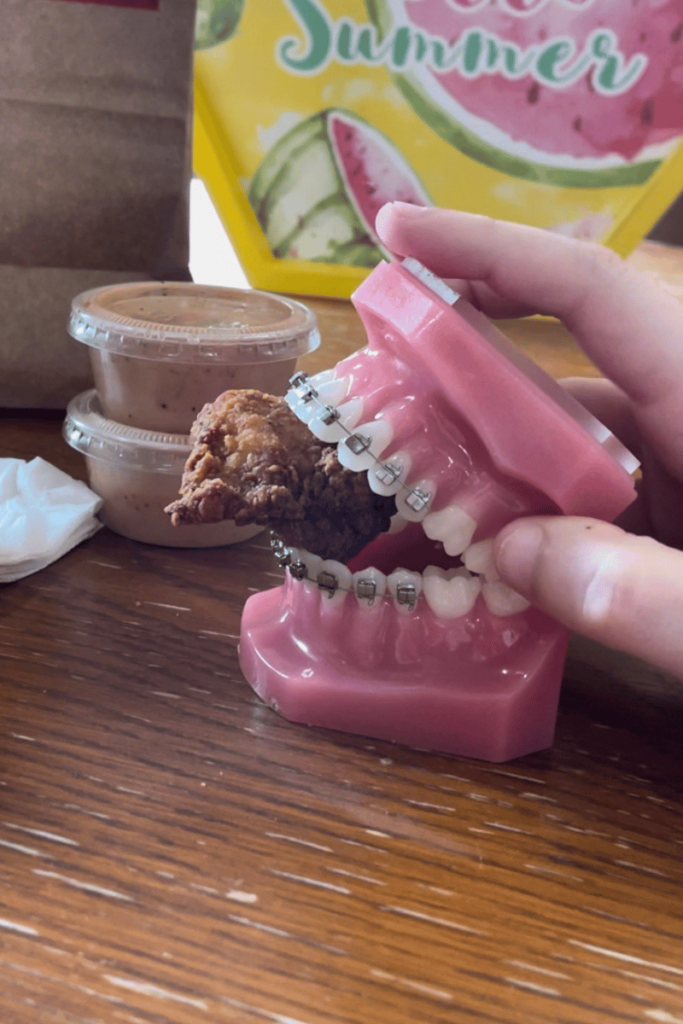 4. Zacadoo's Chicken Nuggets
This is a local place in our area, and it's well-known for its chicken fingers. On the day we tried them, they were overcooked and chewy, making them difficult for the braces model to bite into. The batter was much too hard to eat without possibly bending wires or breaking off brackets. Maybe these would be a good option on a better day, but we can't recommend them for our test.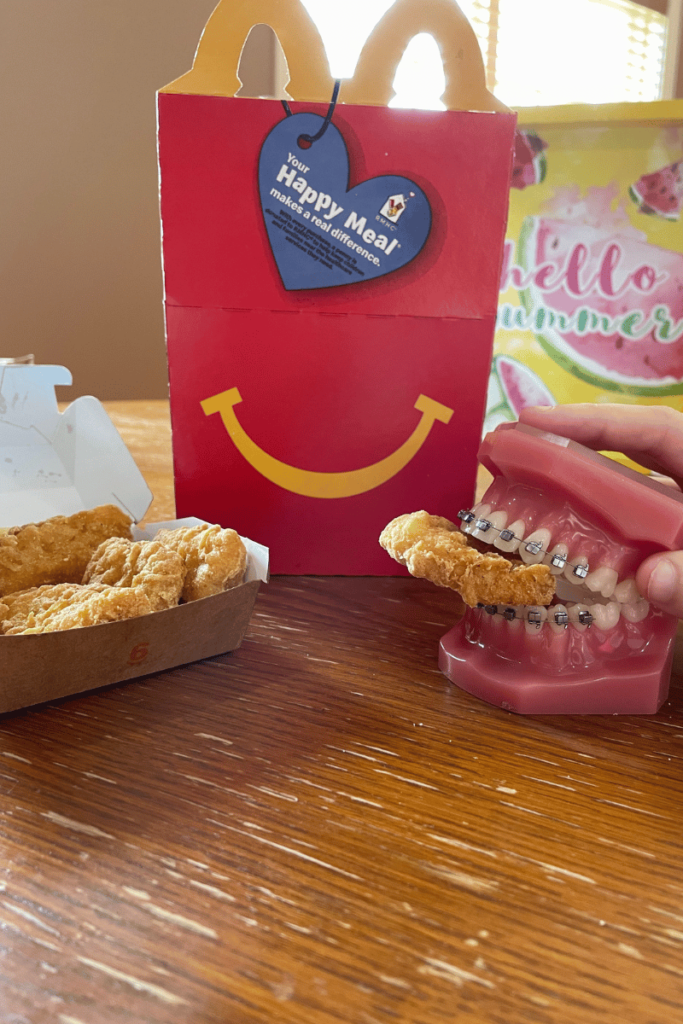 5. McDonald's Chicken Nuggets
The classic! These are the nuggets that started it all, the ones we all grew up on. McDonald's chicken nuggets are known for their crispy coating, but our study found that the ones we received were surprisingly easy to bite into and even easier to eat. The coating was not too hard and would not be a problem to eat with braces on, as long as the nuggets were not too old or overcooked.
Mostly, all chicken nuggets are the same, a great food option for patients with braces. While we recommend avoiding popcorn chicken varieties due to the extreme crispness and chewiness, the classic nuggets are a great choice! Just be mindful of how your nuggets are prepared, and always be careful eating nuggets with extra heavy coating or breading. Also, watch out for overcooked nuggets, as these can be harder to bite into.
And as always -- Don't forget to brush your teeth!
So... Which is your favorite chicken nugget? Let us know in the comments below!
Pass the sauce and happy eating!