July 4th, 2022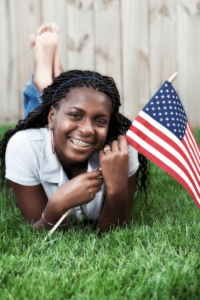 Tips for traveling with braces!
Summertime means a lot of busy people are on the go! So whether you're getting out of town for a quick weekend trip or taking a full-fledged vacation, if you or your child wears braces, you definitely want to be prepared!
Here are a few tips to help make your next adventure easy on your braces and full of smiles.
Make sure you keep any scheduled orthodontic appointments close to your time going out of town.
In orthodontics, these days, patients don't have to come in for check-ups as often. 
However, giving your braces a quick once-over is good to ensure no loose brackets or long wires are present. These issues tend to worsen and cause discomfort.
 So if you have an appointment close to your vacation, make every effort to keep it just in case of minor repairs or tweaking.
Have your braces-friendly travel essentials!
When you're going on a trip out of town, be sure to have a basic travel kit that will keep all the supplies you may need for your braces. It should include:
Travel-size toothbrush and toothpaste

Extra rubber bands

Proxy or Christmas tree brush

Floss and floss threader,

Orthodontic wax

A small mirror

Nail clippers and tweezers

And over-the-counter pain relievers
Be sure to refer to our page on how to treat orthodontic emergencies at home or on the go!
Continue with your home care routine, away from home!
Vacation is a fun time to relax and get away from everything physically and mentally, but it's not a time to slack on your dental home care routine. 
Make sure you brush and floss regularly, and steer clear of any foods to avoid with braces. We give lists of these foods to all our patients when they get their braces on, but more information can also be found on our website.
Also, be sure to check out this fun TikTok as a reminder.
A few extra tips!
In the absence of a mirror, a cell phone camera works great!
 You can also use your phone to remind yourself about wearing your rubber bands and ensuring that you have brushed.
 Finally, Contrary to popular belief, your braces will not set off a metal detector - so you can relax when getting ready to board transportation.
Have you ever had a braces-related mishap while traveling? Leave us a comment and share your experiences and tips for traveling with braces